From its original base in Harrow, Middlesex, Click IT! is now successfully operating in 11 further franchisee locations throughout London, the South East and North Cheshire.
If you live outside these locations, and want to find out more about our exciting franchise opportunity, please download our prospectus.
Case Study, Lynn Howard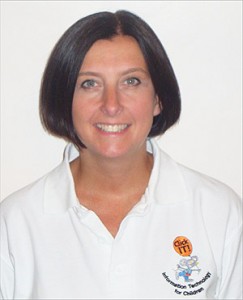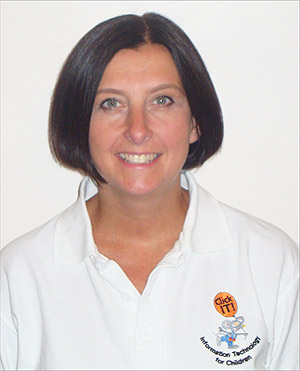 Mum-of-three Lynn Howard became the first franchisee for Click IT! when she answered a job advert on Workingmums.co.uk.  Here, she tells us how she combined her IT skills and desire to be a teacher by becoming a franchisee.
Skills
Lynn Howard was highly computer literate after working many years in investment banking for Deutsche Bank. "I was always on the computer,"  laughs Lynn. "My husband would get really cross."
Her work was 'very high pressure' and she put in many long hours as a manager for office-based staff  – she was in charge of up to 15 people.  "I'd leave home at 6.30am and wouldn't get home until 9.30pm," she said.  But as much as she loved the buzz of her job, she knew her work pattern would have to change when daughter Maisie was born in 2002.
"You can't do those sort of hours when you have children," said Lynn, 39, from Cheam, Surrey.  "After my maternity leave, I negotiated part-time work.  But it would have been four full-time days minimum a week. I decided that having a baby and working 12 to 14 hours a day just wasn't compatible, so I gave up my work.  I thought 'something will come up' and I looked forward to changing my focus in life."
In 2004, Lynn gave birth to Abigail, and in 2007 her third child, Max, was born.  "I always knew I would go back to work at some point," she said.  "But my husband and I took the decision that I would stay at home to raise the children while they were still young."
Job choices
Lynn, who is married to investment banker, Wayne, looked at her personal likes and dislikes in her quest to find a livelihood which would fit in with her family.  "I'd thought about getting a teaching qualification," she said. "But when I explored what it would mean for the family I realised it would be very difficult.  It would have been a huge challenge. I knew I loved working with young children.  I also thought I'd quite like to go into business –  the idea of setting up a business was exciting."
Lynn surfed the internet in search of suitable outlets and discovered Click IT! when she was browsing through the franchise zone of www.workingmums.co.uk.
Click IT! was established in 1999 teaching computer skills to pre-school children and is now expanding across the country through franchising.  "This was the perfect combination of my computer skills and my desire to teach," said Lynn.
Need for flexibility
A flexible franchise was what Lynn needed.  "I wanted to be able to do the school pick-up and to take the children out on days during the school holidays," she said, '"so a franchise which gave me flexibility was ideal.  I contacted the franchisor with loads of questions.  The business opportunity had come a year earlier than I had anticipated – I'd started looking early and intended to try to find something for a year or two years' time.  But the franchisors assured me I could take it as slowly as I wanted.  There was no pressure on me.  I was their first franchisee and I really relished the idea of helping them get this up and running. I preferred this than simply slotting into an established business".
Setting up shop
Having completed a comprehensive training programme, Lynn contacted the prime pre-school nurseries in her  local area and visited them with a senior member of the Click IT! team. The nurseries visited have voiced their interest in Lynn going into their nurseries to teach youngsters. "I've put in the leg work in showing them what it was all about, and they were very receptive, and the support that I have had from the franchisors, Wendy & David Petersen,  has been fantastic" said Lynn. ''In September there will be a new intake of children so now it's just a case of getting the parents to sign up for the courses and then I will be ready to take on more nurseries in time for the January term."
"I have bought the complete software kit and a lap top. I am mobile – everything fits into a suitcase. All I need is two chairs and a table in a corner of the nursery.  It only takes me 10 minutes to set up. Working with such young children is great – they're always so interested in doing things and inquisitive. "